As we countdown to kick-off to one of the most storied rivalries in all of sports, we wanted list off a few of the greatest moments in years past between Michigan and Michigan State… as GIFs.
2015: College Football Michigan State Beats Michigan On Last-Second Punter Fumble
1997: Michigan's Charles Woodson makes one of the most incredible interceptions of all time
2001: "The Catch" – TJ Duckett Catches a last second touchdown to win the game. Also known as "Clockgate"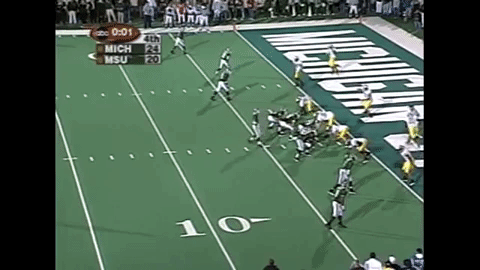 2004: Braylon Edwards takes over late to bring Michigan back from down 17 points
Very rarely a dull moment in this rivalry, and we look forward to many more iconic moments.
  Related Reading  
Michigan-Michigan State football: Expect thunderstorms after kickoff
National anthem protest sought at UM/MSU game
Michigan State issues warning before Michigan vs. MSU game after threats against MSU athletic events